Shopfront Improvement Grant
PLEASE NOTE THIS GRANT IS CURRENTLY PAUSED AND NO NEW APPLICATIONS ARE BEING RECEIVED. WE HOPE TO RE-OPEN IT AGAIN SOON.
Grant aims
This grant aims to improve the appearance of the ground floor frontages of commercial premises, both occupied and vacant.
What the grant can be used for
* Preparation (including minor repairs) and painting of shop windows and frontages
* Preparation (including minor repairs) and painting of shop entrances
* Sign writing, repair or replacement of signage boards and signage lighting
* Shop window graphics
Funding available
Direct grant assistance through individual online application process. £500 maximum grant, at 80% intervention.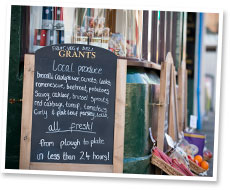 Who can apply?
Applications are welcome from landlords, tenants with responsibility for repairs and maintenance, and owner occupiers who are either sole traders or small to medium sized enterprises (those who employ less than 250 people).
Consent & planning
Shop front works may require consents from South Ayrshire Council.  For example, advertisement consents for signage, consents for painting shop fronts and listed building consents.
Your proposed shop-front improvement or advertisement may need formal consent from the Council, as it's also the Planning Authority.  It's also likely that your shop will have some heritage interest, either because the property is listed, and/or because it's located within a Conservation Area.  This means that signage will need to respect these historic interests and be designed sympathetically.  For guidance on the type of signage that is considered appropriate, please visit http://www.south-ayrshire.gov.uk/documents/advertisement%20and%20commercial%20signage.pdf  for further information.
PLEASE NOTE: Before completing a shop front grant application, you must contact South Ayrshire Planning for advice on Tel: 01292 616107 informing them that your enquiry is relating to 'AMBITION for Town Centres'.  When contacting Planning, please have a clear idea of the intended works and details surrounding it e.g. For signage – lettering size, type of sign, etc.
Refunding of planning consent fees
Any planning fees relating to consents for works carried out under the grant programme will be re-imbursed in full on completion of the works and the production of receipts.
Check our maps to see if you are within the eligible areas for your town:
Ayr / Girvan / Maybole / Prestwick / Troon
How the grant works
* Firstly, you need to complete an online enquiry form
* Then submit your Planning consent documentation (if required)
* Finally, submit copies of three quotes for works to be carried out
How your grant will be paid
* Grants will be paid by BACS directly into your Business Account, so you must provide details of this.
* Submit your receipted invoice(s).
* Submit before and after photographs.
The small print
* Grants are discretionary and South Ayrshire Council reserves the right to refuse any grant at its sole discretion. The Council reserves the right to vary the amount of grant at its sole discretion.
* Where applications have any amounts owing to South Ayrshire Council, this will be taken into consideration in determining grant eligibility.
* The provision of false information may lead to prosecution.
* Grants can only be paid into Business bank Accounts. Companies failing to meet the above conditions will be liable to repay any funds awarded through this programme to the business in full.
For further information, please contact Rachel McCallum on 01292 616 265 or email Rachel.McCallum@south-ayrshire.gov.uk